Basilique du Sacré-Coeur
Avenue Jean-Paul II 71600 PARAY-LE-MONIAL
GPS 46.4502, 4.12079
Type :

Theme : Basilica
Architectural style : Classic, Romanesque, Romanesque
Category : Listed or registered (CNMHS)
03 85 81 10 92
03 85 81 36 61
The "Cluny"-styled Paray-le-Monial basilica provides a truly remarkable living example of Burgundy's Romanesque architecture. It is considered as a precise reduced-scale model of the celebrated Abbey Cluny. The extreme harmony of its proportions and its pure elegance are especially visible in the layering of its chevet. Also to be admired in this masterpiece is the sheer beauty of the recently-renovated northern entrance, with its ornate decorations inspired from Islamic art. An overwhelming testimony to the genius of the Cluny-style architectural period, this basilica resounds with the fervour of the pilgrimages it hosts from the world over. The complete restoration of the basilica interior has created a space with a breathtaking quality of light. Guided visit for individuals on July and August at 10 and 3 hours.
Follow us on
Free visit constantly
Free visit on request
Guided group visit on request
Free group visit constantly
Free group visit on request
Prices
| Information | Min. Rate | Max. Rate | Further information |
| --- | --- | --- | --- |
| Audio guide rate | | | |
Payment methods :
Credit card
Holiday vouchers
Cash
Bank transfers
Visa
Services :

Look around and/or generate the route
Nearby suggestions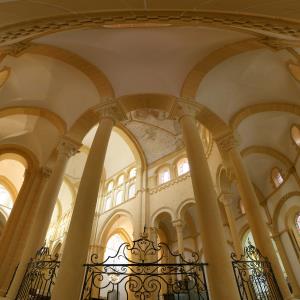 La basilique de Paray-le-Monial, site clunisien, est un des plus beaux exemples de l'art roman bourguignon. Elle est considérée comme le "modèle...