Maison du Charolais
43, route de Mâcon - RCEA - RN79 71120 CHAROLLES
GPS 46.4403, 4.29803
Type :

Theme : Agriculture rural life, Animals, Gastronomy, Professions / trades, Children's museum, Science and technology, Natural sciences, Agricultural land
Category : Departmental museum
03 85 88 04 00
03 85 88 04 09
Mobility type :
Walking, Bicycling, Motorcycle, Camper, Car
Services :
Advise the tourist on how to plan for a successful tour
Amenities :
Propose a transport solution

Luggage lockers
Hinking

- Establishment located within 3 km of a hiking trail (GR, PR, green paths, marked loops) - Helpful advice for a successful stay while touring on foot

By Bike

- Offer a facility for parking motorcycles
- Possibility for the tourist to leave a helmet with on-site monitoring - Useful services

Cycling

- Establishment located within 5 km of a marked cycling itinerary (Greenways, touring loops, mountain biking trails, etc.) - Helpful advice for a successful stay while on a bicycle tour
- Bicycle accessories
- Recharge terminal for electric bicycles (free)
A museum exhibit devoted to the Charolais breed of beef cattle (interactive terminals, dioramas, a series of videos). An observation deck, complete with a mounted area guide, enables looking out and admiring the neighbouring grazing land. Tasting of Charolais meats at the end of the visit. New in 2007: a 3D film (getting to know Charolais farm animals).
Follow us on
Guided visit constantly
Guided visit on request
Free visit constantly
Average visit duration : 60 min
Guided group visit on request
Average visit duration : 60 min
:
Group min. size: 20 - Group max. size: 100
Tourism & handicap label :
Hearing handicap
Mental handicap
Services :


Activities :
Specific theme activitiesAdult workshopJunior workshopSpecialist conferencesConferencesTemporary exhibitions
Look around and/or generate the route
Nearby suggestions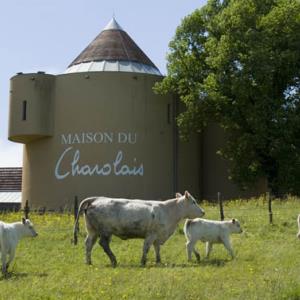 Espace muséographique ludique et interactif, situé au cœur du berceau de cette race d'exception, expliquant comment la charolaise transforme l...